Cross-posted from the Imperial and Global Forum:
Empire of Cotton: A Global History, by Sven Beckert (2015)
 Edward Watson
University of Texas at Austin
Cross-posted from Not Even Past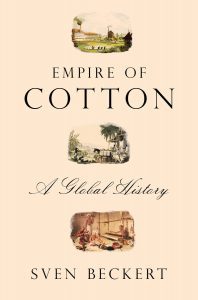 Sven Beckert places cotton at the center of his colossal history of modern capitalism, arguing that the growth of the industry was the "launching pad for the broader Industrial Revolution." Beckert follows cotton through a staggering spatial and chronological scope. Spanning five thousand years of cotton's history, with a particular focus on the seventeenth to twentieth centuries, Empire of Cotton is a tale of the spread of industrialization and the rise of modern global capitalism. Through emphasizing the international nature of the cotton industry, Beckert exemplifies how history of the commodity and global history are ideally suited to each other. Produced over the course of ten years and with a transnational breadth of archive material, Empire of Cotton is a bold, ambitious work that confronts challenges that many historians could only dream of attempting.  The result is a popular history that is largely successful in attaining the desirable combination of being both rigorous and entertaining.
To read more go here.